Managed Restroom Services
---
An Ace ImageWear Managed Restroom Services weekly program, tailored specifically to your organization's restroom needs, can: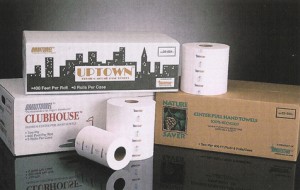 Free up storage space from stocking inventory in bulk
Save you the hassle of managing restroom supply inventory
Install the latest technologies in restroom dispensers and hygiene products that protect customer and employee health
Establish a "never-out-of-stock" replenishment strategy tailored to your individual restroom needs
Here is just a sampling of what Ace ImageWear can provide your company.
Soaps
Foam Fresh Anti-Microbial Hand Wash │Custom-formulated wash gently cleans, softens and conditions skin using the latest in bio-degradable, Ph-neutral foaming technology. Light melon fragrance.
Soy-Based Industrial Hand Cleaner │ Rated best by metro users for cleansing power and maximum skin protection. Unique fibril bio-degradable scrubbers do the trick without using drain-clogging pumice rock.
Paper Products
Mini Jumbo Twin Roll Tissue System │ Patented system delivers 100% consumption of first roll before second roll can be dispensed, eliminating paper waste. Translucent cover provides instant inventory assessment.
Center Pull Towel System │ Portion-control, "touch paper only" system reduces waste, saves money and helps prevent cross contamination. Sheets are 100% recycled cellulose for increased absorbency.
Air Fresheners
T-Cell Odor Management System │Consumer-preferred fragrances also contain Microtrans®, a proven odor neutralizer. All delivered at a consistent level with no batteries or environmentally-challenging VOC's.
Hygiene Systems
Sparkle Seat Cleanser │ Unique alcohol-based cleanser provides an effective and hygienic solution for keeping toilet seats looking their best. Toilet tissue sheets prevent paper clogs.
Auto Flush Clamp │ Ensures your urinals and toilets are always flushed, odor-free and presentable. Eliminates cross-contamination, plus built-in "daily-flush" feature prevents sewer gas build-up.
Back to Restroom Services >>