Manufacturing Uniforms
---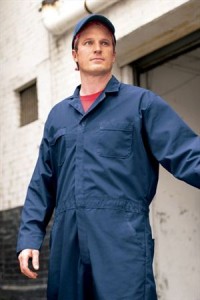 "We continue to receive excellent service. The entire Ace ImageWear team always goes the extra mile to get the job done right."
— Amy Peterson, Human Resources Manager, Huhtamaki
The word manufacturing comes from the Latin manu factura, which translated means "making by hand." Today's definition most commonly is applied to industrial production in which raw materials are transformed into finished goods on a large scale. The work is hard, tough and dirty…and Ace ImageWear has the solutions to keep industrial employees focused on their work objectives by handling all of their uniform needs week-in and week-out.
Our most popular Ace Champion™ Rental Service Program provides you the assurance that no matter what dirt, grime, grease or oil your workers get into, we'll keep them looking and feeling comfortable through the latest in work gear and our exclusive cleaning technologies.
Ace ImageWear also has a customized mat rental service specifically designed for manufacturing facility usage as well as a cost-effective alternative to paper towels with our cotton towel rental program. We can even provide additional cost savings and peace-of-mind through our managed restroom services featuring our exclusive "never out of stock" replenishment program for all dispensers and hygiene materials. Ask us about our one-week free trial!