Managed Microfiber Services
---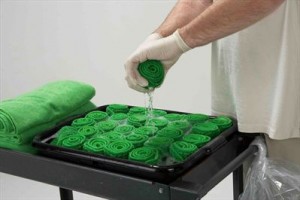 View our catalog of managed microfiber service products here.
If your employees still utilize wet loop mops as part of your cleaning and maintenance protocol, you are missing the benefits that microfiber provides. Reporting in the Environmental Best Practices for Health Care Facilities*, the Environmental Protection Agency (EPA) provided convincing evidence regarding the benefits of using microfiber mops over conventional wet loop models. Citing a study by the University of California Davis Medical Center (UCDMC), they reported the following measurable health and economic benefits:
• Cross contamination is eliminated by substituting fresh product in every room
• 95% reduction in chemical and water costs associated with mopping tasks.
• An estimated 20% in labor savings per day.
• A reduction in workers' compensation claims.
*Using Microfiber Mops in Hospitals", EPA 2002
One potential drawback listed in the report was the need for special laundering services to effectively clean the reusable microfiber mop heads. The solution—we can handle all of your special laundering needs. Now Ace ImageWear has a Managed Microfiber program that provides all the benefits of this technological breakthrough in cleaning with a cost-effective, weekly service customized to your needs.
How Microfiber Works
Microfiber is a specially processed synthetic fiber that is incredibly strong and 100% lint free. Each fiber is split during manufacturing to a diameter that is 100 times finer than a human hair. This splitting makes microfiber uniquely effective for mopping by delivering:Incredible Absorbency – Millions of tiny spaces between the fibers collect large amounts of liquids and hold up to 8 times its weight, a 30% improvement over conventional mops. No rinsing or wringing needed, either. You simply replace the soiled microfiber mop pads with pads cleaned by Ace ImageWear's special laundered service. A one pad, one room strategy ends cross contamination issues.
Wet or Dry Superior Cleaning – Use the mop dry, and the microfibers have a positive charge that magnetically attract negatively charged elements like dirt, bacteria and dust. When wet, tiny fibers penetrate the microscopic surface pores of flooring materials for better scrubbing. In fact, the UCDMC study found microfiber materials reduced bacteria by 99% compared to just 30% using traditional wet mop cleaning.
Our Managed Microfiber Program
The Ace ImageWear Managed Microfiber Mop service starts with an in-depth analysis of your organization's mopping needs. Through this analysis we'll establish a customized program that includes a complete inventory of specialty microfiber mops, towels and dusters, enough microfiber to last you through a week of cleaning. Then, we'll train your personnel as they transition to this new more cost-effective and ergonomically-friendly cleaning alternative.
Weekly, we pick-up the previous week's soiled products, leaving a refreshed inventory that has been cleaned through our special microfiber laundering process. All for an easy-to-budget service rental fee that pays for itself immediately through savings in chemicals, water usage, and employee productivity.