Mat, Towel, Linens & Apron Service
---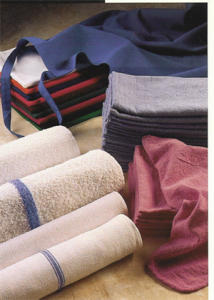 We understand that there is so much more to maintaining you're a winning company image than uniforms. Keeping a dirt-free environment is crucial, because statistics* show that dirty floors and carpets can smudge your image as well as your bottom line:
• Floors were cited as the first thing customers look for when judging cleanliness.
• Up to 80% of grime and dirt in a building is tracked in from the outside.
• One square yard of carpet can accumulate up to a pound of dirt in a week.
• Removing that one pound of dirt will set you back $600 using traditional building maintenance labor.
*Mountville Mills, Inc. Research Data
Luckily, there's a proven solution to these challenges. Research shows strategically located mats will effectively remove up to 80% of all soil and moisture and there's no better way to protect, maintain and enhance the appearance of your floors than with our Managed Mat Program service. It's a winning combination when paired with our Towel and Apron Rental Program.
We start by selecting your customized mat rental inventory utilizing the latest technological advancements from ClassicMats™. These mats are specially constructed of high twist nylon yarns that efficiently remove up to 80% of dirt and other contaminants from shoes. Our comprehensive range of mats and accessories is engineered to meet the demands of busy public, commercial, institutional and industrial environments, available in virtually any size and color you can imagine.
Managed Mat Program
Here's just a sampling:
Logo Mats – Ideal for projecting your corporate image while protecting interior surfaces throughout your facility.
Anti-Fatigue Mats – Provides a safe, productive surface for occupations requiring long periods of standing. Special mats allow leg muscles to naturally contract and expand, increasing blood flow and reducing fatigue.

Electro Static Discharge (ESD) Mats – All of our carpet-topped mats have carbon filaments woven throughout, helping to dissipate static buildup.  Great for around computers, copiers and other electronics.
Anti-Slip Mats – Engineered to provide safe footing in slippery environments; with applications typically outside of entrances, ramps and areas where contaminants like grease and oil are present.
Each week, an Ace customer service representative answers the bell by safely and quickly removing the soiled mats, leaving behind freshly laundered and sanitized replacements. There's no upfront investment required. No inventory to worry about. Just a nominal rental service charge that is far more cost effective than traditional building maintenance options. It's a winning combination your company image can count on.
Towel and Apron Rental Program
Frustrated by keeping the right towels in stock? Tired of paying a premium for disposable paper towels in your shop? Looking for one company to meet specialty needs like aprons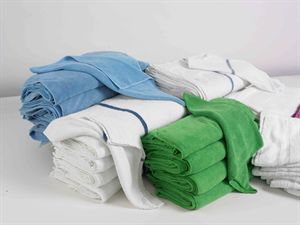 and other ancillary needs? Don't throw in the towel…establish a Towel and Apron Rental Program with Ace ImageWear instead.
One of our cotton rental towels does the work of 10 or more paper wipers for about one-twelfth the cost. Plus we carry a full selection of towel and apron products designed to meet specific applications for industries like: automotive, restaurant/hospitality, medical, printing, beauty salons, car washes and more. All laundered and delivered to your place of business weekly by a professional and courteous Ace representative who manages your inventory for you.
Give us a shot as your linen service and supply rental provider for your company.
View our catalog of Image Enhancer service products here.