Shop Towel Rental Programs
Don't throw in the
towel

- tag in Ace ImageWear

With a clean towel in hand, anything is possible. Well, to clean that is. Towels can be found in many modern workplaces - from auto shops to restaurant kitchens, the towel won't be going anywhere any time soon. But are your disposable towels leaving you behind?

Employing a shop towel rental service from Ace ImageWear makes it easy to keep your workplace running smoothly, especially alongside a uniform rental program. Our cotton towels are laundered and sanitized weekly, and our route representatives track and restock your towel supply weekly, too.
Cotton shop towels
Kitchen and bar towels
Microfiber towels
Bath & gym towels
and more.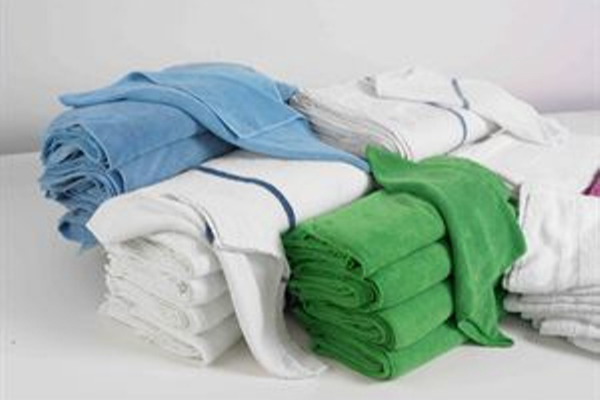 Why choose a towel rental program over disposable towels?
No upfront towel investment. Disposable towels have you purchasing new towels week after week, but with a towel rental program, you'll get them delivered and invoiced alongside your uniform rental program.
Save money, save the environment. A towel rental service saves money by 1.) not having to constantly buy more towels, 2.) you can only use disposable towels once before throwing them away, and 3.) avoiding paying to have soiled towels properly disposed of. Towel programs provide a sanitary and effective service allowing towels to be reused. You're keeping money in your pocket and garbage out of landfills.
Remain compliant. If your workplace uses towels to clean up oil, chemicals, or other special substances, you're probably required to dispose of the towels in a specific, safe way. When you rent from Ace ImageWear, leave worrying about compliant disposal and washing to us, and focus on how clean your facility is.
Never run out of supplies. With weekly visits from your route representative, trust that you'll always have enough towels- no matter how big the spill is.
Tired of monitoring your towel inventory, or looking for a more environmentally friendly option than disposable paper towels and rags? It's time to take a look at a shop towel rental service with Ace.