Automotive Uniform Rental Programs 
Outfit

Your Entire Dealership

Automotive dealerships and repair facilities need quality uniforms for their entire staff. We're proud to offer executive clothes and work uniforms from Red Kap which are created for automotive repair technicians, lot attendants, sales staff and more. This includes OEM branded automotive uniforms for 19 of the top automotive and automotive service brands. You can provide a complete uniform program to your entire dealership with a look you and your employees will be proud to wear. Plus the Ace Champion™ Uniform Rental Program provides you the assurance that no matter what dirt, grime, grease or oil you all get into, your uniforms will be delivered clean week-in and week-out through our exclusive technologies and delivery service.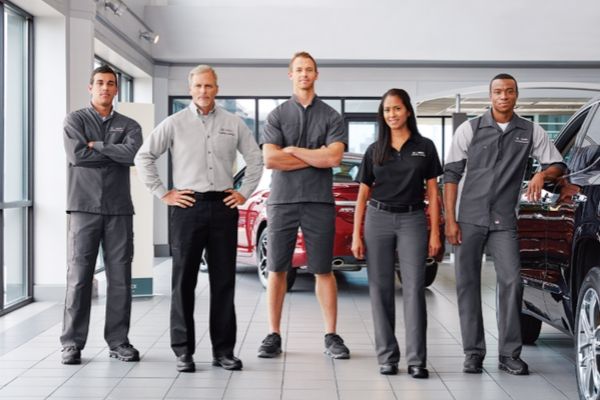 Floor Mat & Shop Towel Rental Programs
Auto dealerships often count on Ace ImageWear for more than just branded uniforms programs. They also rely on us for delivery of mats and shop towels. Our mat rental programs include branded entrance mats for your dealership, scraper mats to avoid slips and falls from oily floors, and anti-fatigue mats that relieve foot, leg, and back pain for those who are on their feet most of the day.
Our shop towel rental programs are a cost-effective way to replace paper towels with those that are more absorbent, and better for the environment. We have a variety of shop towels available from 100% cotton for service techs to microfiber towels for detailing.
Leave competitors guessing how you keep employees well-dressed and happy. The secret? You've got an Ace Up Your Sleeve. Contact us today and learn more about our uniform rental programs specifically for automotive dealerships.