Uniform Rental Service
---
For more than 80 years, Ace ImageWear has managed uniform programs, and delivered clean rental uniforms week after week. Whether you rent, lease or purchase, we have the right products and dependable services to meet your needs. We help our customers control and protect their image coast to coast.
Studies show that where a company's employees are concerned, looks really do matter. Employees are the most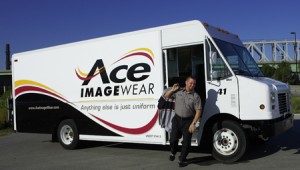 influential factor in determining a customer's first impression of the business, and first impressions tend to be enduring. An employee's dirty or unpressed attire can lead a customers to perceive the business as unprofessional or uncaring, regardless of the quality of the product or service received. That's why uniform service is a great way to control your company image, no matter which industry you're in.
Our uniform service programs can give you peace of mind that no matter what dirt, grime, grease or other contaminants with which your employees come into contact, their uniforms will be crisply pressed and contaminant-free at the start of each work day.
Uniform Service Options
Customers interested in controlling their image through Ace uniforms can choose from three unique options:
Ace Uniform Service │Our most popular choice, this hassle-free program gets you a two-week supply of customized, branded uniforms with no upfront cost, weekly pick-up of soiled uniforms and delivery of expertly cleaned and pressed ones as well as lifetime garment repair, upgrade and size-change service.
Ace Uniform Lease Program │ This program is a good fit for companies that prefer to launder and press their own garments. It includes a one-week supply of customized, branded uniforms and lifetime garment repair, upgrade and size-change service.
Ace Uniform Direct Purchase │All of our customized, branded uniforms are also available for purchase. Complimentary professional fitting included.   
Uniform Offerings
As an independent supplier, we can connect you with the apparel vendor that best suits your company's needs, offering apparel for every industry in a wide array of styles and colors:
Industrial apparel │work shirts, pants and jackets, supervisor shirts, counter and shop coats, coveralls and jumpsuits
Medical apparel │lab coats, warm-up jackets, fluid-resistant garments, scrub pants and tops and specialty scrub garments
Executive apparel │slacks and blazers, button down oxford shirts, pleated twill pants, women's apparel
Safety apparel │Nomex and 70E compliant fire-retardant garments. Click here to learn more.
Find out how our innovative technology has addressed the industry complaint of incomplete deliveries.
Talk to us about uniform rental prices and learn why we are one of the top uniform companies in Beaumont Texas, Houston Texas, Kansas City, Missouri and surrounding areas.
In addition, we teamed up with  the ASN Network,  a group of independent uniform suppliers that provide uniform programs coast to coast. This team gives you the national coverage you need with the local attention you want.  Contact us today!