Mat & Mop Service in Kansas City, MO
As Kansas City's premium service provider, Ace ImageWear sets a new standard in the realm of mat & mop service in Kansas City, MO. Our steadfast dedication, exceptional quality, and unparalleled customer service make us an industry leader in cleanliness, safety, and hygiene.
Specializing in a diverse array of mat & mop service in Kansas City, MO, Ace ImageWear serves a multitude of sectors. Through years of focused efforts, we've gained comprehensive expertise in meeting industry-specific demands. We provide top-of-the-line solutions compliant with rigorous safety and cleanliness standards. Explore our high-quality mat offerings:
Logo Mats
Ace ImageWear's logo mats merge style with utility, delivering a polished appearance that makes a positive initial impact. They simultaneously assure safety and cleanliness, even during peak hours.
Anti-Fatigue Mats
These mats are engineered to reduce bodily stress, enhancing comfort during prolonged standing. Ideal for work settings where standing for extended periods is common, they boost productivity and well-being.
Electrostatic Discharge (ESD) Mats
These specialized mats, laced with carbon filaments, act to dispel static electricity—ideal for zones with sensitive electronics like computers and photocopiers.
Anti-Slip Mats
Providing solid traction in areas prone to dampness or slips, our anti-slip mats significantly minimize the risk of accidents. They are essential for busy locales where safety and cleanliness are a priority.
Area Protection Mats
Choosing Ace ImageWear's area protection mats means safeguarding your facility. These mats capture and contain grit, sand, and moisture at entry points, thus preserving flooring and averting potential hazards.
Ace ImageWear's mop service equips your establishment with the tools necessary for maintaining a clean and safe environment. Utilizing high-quality materials and meticulous attention, we deliver optimally maintained mops, thereby elevating your facility's cleanliness and operational efficiency. Experience unmatched hygiene with Ace ImageWear's premier mop service:
Dust Mops
Ace ImageWear dust mops are designed for maximum dirt capture, making them ideal for maintaining immaculate conditions. These mops are professional-grade and highly effective.
Wet Mops
Our high-quality wet mops excel in absorption and durability. Routine professional care ensures that your facility is supplied with clean mops throughout the year.
Microfiber Mops
Ideal for both dry and wet applications, Ace ImageWear's microfiber mops offer:
High absorption

. Composed of ultra-fine fibers, these mops have superior soaking capabilities compared to conventional ones.

Cross-contamination prevention

. Particularly useful in environments like food processing units and laboratories, we employ a unique mop-for-each-room strategy, thereby minimizing the risk of contaminant transfer.

Exceptional cleaning

. These mops remove more than 90% of bacteria, promoting a cleaner, safer environment.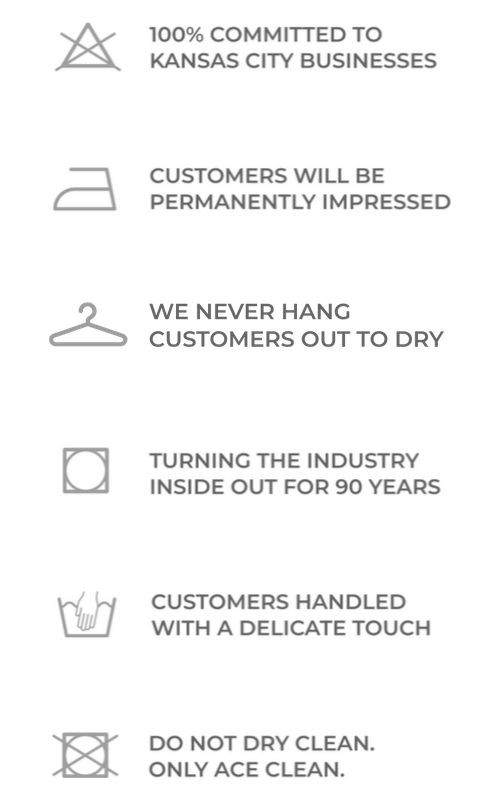 Ready to Ace Your Uniform Rental Program?
Contact:
Bill Heilman, General Manager
Tom Heilman, VP Sales and Service
Address
4120 Truman Rd.
Kansas City, MO 64127
Call us today, or use the form below.
816-231-5737 or 1-800-366-0564
Interested in a career with Ace ImageWear?
Check out our open positions for Ace Kansas City here!
Get in Touch with Ace ImageWear!
Ace ImageWear has carved out a distinct reputation with its commitment to quality, tailored solutions, and unparalleled customer service. Contact us at 1-800-877-3336 or shoot us an email to learn more about the exceptional mat & mop service in Kansas City, MO.
Recent Reviews from Our Customers
Throughout our lives, the laundry industry plays a vital role. From the bedsheets we enter the world in to the napkins and tablecloths at our tables and beyond, linen is always there. Celebrate International Linen and Uniform Service Day (ILUD) with Ace ImageWear today!
Read More
Why wait to change uniform rental providers? It's time to get out of that national outfit and into a local uniform partnership.