Towel & Apron Service in Kansas City, MO
Wondering why a top-tier towel & apron service in Kansas City like Ace ImageWear is critical for your enterprise? It's about quality, convenience, and diversity. We present a suite of services that bolster your professional appearance while streamlining your workflow.
Ace ImageWear delivers an array of towels, each uniquely designed for varied industries. We provide:
Cotton Shop Towels
For auto shops, manufacturing units, or any venture where messes are common, our cotton shop towels are invaluable. They soak up liquids effectively and are reusable after a comprehensive cleaning, promoting sustainability. With our towel & apron service in Kansas City, you're guaranteed freshly laundered towels whenever required.
Kitchen and Bar Towels
In dynamic kitchens or bustling bars, cleaning up is a constant. Our top-grade kitchen and bar towels efficiently address every spill, whether it's wiping surfaces or managing unforeseen mishaps. Ace ImageWear handles the purchasing and washing, delivering pristine towels to your location routinely. This way you can avoid excess purchasing and laundering costs.
Microfiber Towels
In places where regular towels fall short, microfiber towels shine. Perfect for cleaning glass, electronics, and sensitive tools, our microfiber offerings ensure no lint or scratch issues. With our towel & apron service in Kansas City, you're always stocked up.
Bath & Gym Towels
Run a gym, spa, or hotel in Kansas City? Bath and gym towels are essential. With Ace ImageWear, present your guests with luxurious, sanitarily laundered towels. It's an added touch of luxury, increasing client delight.
While aprons might seem straightforward, they're vital to many businesses. Whether you're part of the culinary world, involved in arts, or any profession needing protective gear, we're here for you. Our rental services ensure you always have pristine aprons specific to your demands. From culinary aprons to crafting ones, our towel & apron service in Kansas City guarantees availability of clean, top-notch aprons consistently.
Connect with Ace ImageWear Now!
Ace ImageWear ensures you never run low on clean towels or aprons. Our dependable towel & apron service in Kansas City lets you concentrate on your core operations. We oversee inventory, cleaning, and distribution; all you need is to get in touch. Dial Ace ImageWear today for a service plan uniquely shaped for your enterprise. Trust in us, and you can zero in on delivering unmatched service to your patrons. Experience the Ace ImageWear distinction today!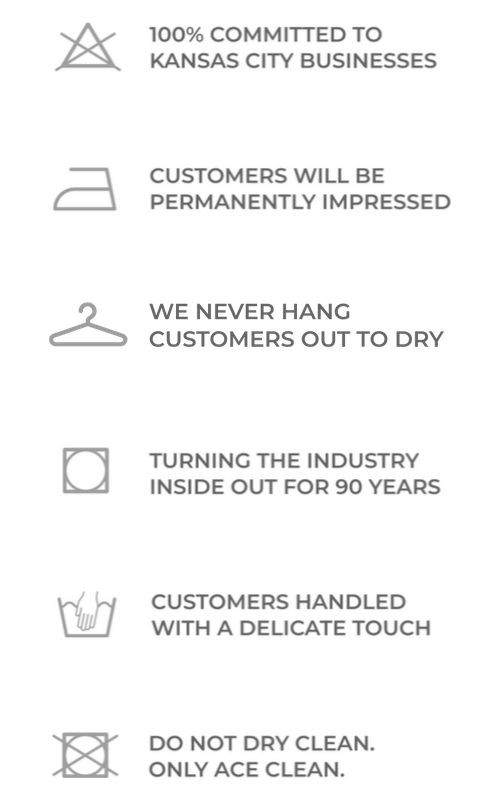 Ready to Ace Your Uniform Rental Program?
Contact:
Bill Heilman, General Manager
Tom Heilman, VP Sales and Service
Address
4120 Truman Rd.
Kansas City, MO 64127
Call us today, or use the form below.
816-231-5737 or 1-800-366-0564
Interested in a career with Ace ImageWear?
Check out our open positions for Ace Kansas City here!
Recent Reviews from Our Customers
Throughout our lives, the laundry industry plays a vital role. From the bedsheets we enter the world in to the napkins and tablecloths at our tables and beyond, linen is always there. Celebrate International Linen and Uniform Service Day (ILUD) with Ace ImageWear today!
Read More
Why wait to change uniform rental providers? It's time to get out of that national outfit and into a local uniform partnership.