Restroom Supplies in Houston, TX
In Houston, TX, maintaining a clean and welcoming restroom environment is crucial for any business. Ace ImageWear is here to ensure you set the standards in hygienic standards with our top-notch restroom supplies in Houston, TX. We provide a range of essential restroom supplies that maintain cleanliness and enhance the user experience.
Soap & Industrial Hand Cleaner
Our soap and industrial hand cleaner range caters to the diverse needs of businesses in Houston, TX. Offering foam fresh anti-microbial soap, we ensure that hand hygiene is effective and pleasant for users thanks to a non-abrasive, skin-safe formula. Our products provide a thorough cleaning, eliminating germs and leaving hands feeling refreshed. This focus on quality makes our restroom supplies in Houston, TX, a go-to choice for businesses aiming to uphold high standards of hygiene and comfort.
Paper Products
A fundamental aspect of our restroom supplies in Houston, TX, is our paper products, including the Twin Roll Toilet-Tissue System. This system champions efficiency and reliability, ensuring you're stocked with necessary supplies. The twin roll feature reduces the frequency of refills, saving time and effort while ensuring that restroom visitors always have access to toilet tissue.
Air Freshener
The ambiance of a restroom is influenced by its smell. Our T-Cell Odor Management System is an integral part of our restroom supplies in Houston, TX. These air fresheners effectively neutralize odors, leaving a clean and fresh scent. This subtle yet significant touch enhances the overall restroom experience for users.
Hygiene Systems
In today's world, hand hygiene is more important than ever. That's why our hygiene systems, including hand sanitizers, are a critical component of our restroom supplies in Houston, TX. Our hand sanitizers are gentle on the skin and effectively eliminate germs, providing an added layer of protection for users.
Call Ace ImageWear Today! 
Ace ImageWear's restroom supplies in Houston, TX, are about more than just necessities; they are about providing a comprehensive, high-quality restroom experience. From our advanced soap formulations to efficient paper products, fresh-smelling air fresheners, and protective hygiene systems, we elevate the standard of restroom facilities in Houston, TX. Contact us at 1-800-877-3336 or email us to learn more about our products and services.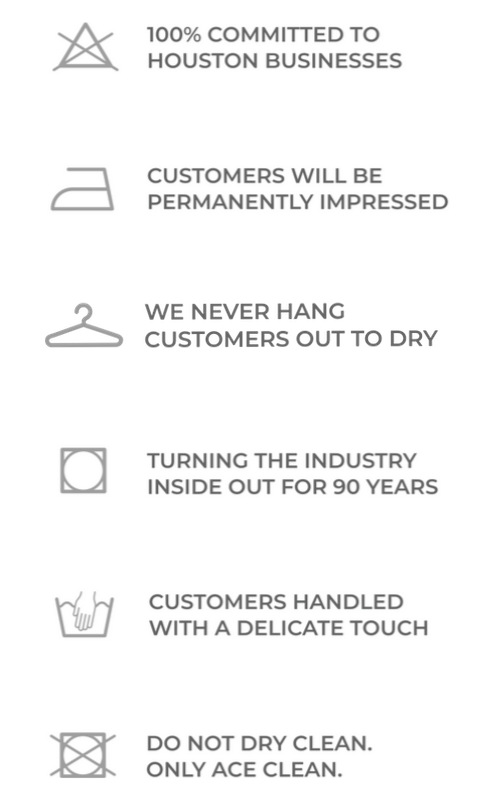 Recent Reviews from Our Customers
Throughout our lives, the laundry industry plays a vital role. From the bedsheets we enter the world in to the napkins and tablecloths at our tables and beyond, linen is always there. Celebrate International Linen and Uniform Service Day (ILUD) with Ace ImageWear today!
Why wait to change uniform rental providers? It's time to get out of that national outfit and into a local uniform partnership.