Uniform Service in Houston, TX
Ace ImageWear is a leading provider of professional uniform service in Houston, Texas, catering to a wide range of industries. We provide a strong commitment to quality, customization, and customer satisfaction. We will make your business stand out while ensuring your employees are comfortable and safe. Read on to learn more about our diverse selection of uniforms and apparel.
Automotive Uniforms
Our automotive uniforms meet the demands of the industry while ensuring your employees look professional and polished. We offer a variety of durable and functional apparel. This includes automotive technician shirts, pants, coveralls, and jackets, with customizable options to showcase your brand and meet your specific needs.
Bioscience Uniforms
Ace ImageWear understands the importance of safety and hygiene in the bioscience industry. Our bioscience uniforms include lab coats, scrubs, cleanroom apparel, and protective equipment. Each adheres to industry standards, ensuring optimal protection for your employees while projecting a professional image.
Corporate Apparel
Make a lasting impression with our high-quality corporate apparel. From dress shirts and blouses to polos, slacks, and skirts, we offer a wide range of professional attire. We offer customization options for each including adding your company logo and colors to create a cohesive brand image.
Food Processing Uniforms
In the food processing industry, cleanliness and safety are paramount. Ace ImageWear offers a variety of uniforms that meet HACCP and FDA guidelines, including smocks, aprons, coveralls, and hair and beard nets. This ensures your employees have what they need to maintain a hygienic work environment.
FR Garments
For industries where fire-resistant clothing is essential, Ace ImageWear provides a range of FR garments, including coveralls, shirts, pants, and jackets. These garments meet industry safety standards, protecting your employees and minimizing the risk of workplace accidents.
High Vis and Safety Apparel
Ace ImageWear is committed to keeping your employees safe and visible on the job. Our high visibility and safety apparel options include vests, jackets, shirts, and pants, available in various colors and reflective materials, ensuring your employees are seen and protected.
Manufacturing & Industrial Uniforms
Our manufacturing and industrial uniforms are designed to withstand the rigors of the job while promoting a professional appearance. Choose from a range of durable work shirts, pants, coveralls, and jackets, customizable to meet the specific needs of your industry.
Petrochemical Uniforms
Safety and durability are vital in the petrochemical industry. Ace ImageWear offers a variety of uniforms, including FR garments, coveralls, and high-visibility apparel, designed to meet the unique requirements and safety standards of this demanding sector.
Outerwear
Equip your employees with the right outerwear for any weather conditions. Our selection includes jackets, coats, rain gear, and cold-weather apparel, customizable to showcase your company's logo and colors.
Transportation & Logistics Apparel
Ace ImageWear understands the importance of comfort, durability, and safety in the transportation and logistics industry. Our uniform options include cargo pants, work shirts, high-visibility vests, and jackets, designed to keep your employees looking professional and feeling comfortable throughout their workday.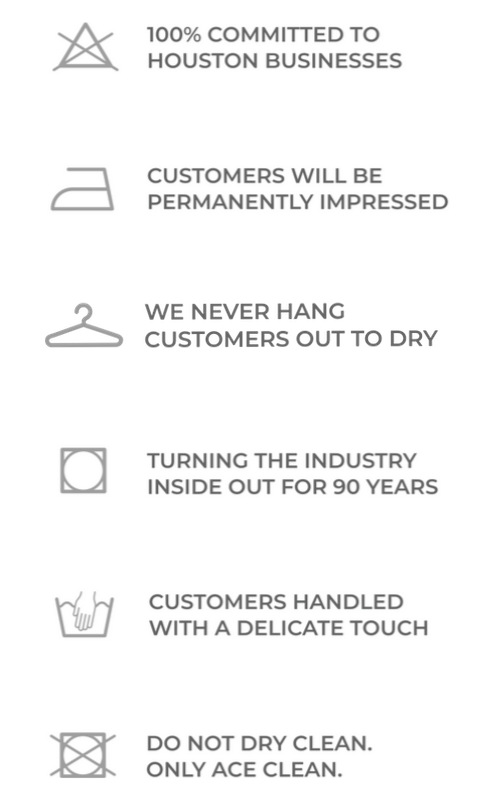 Contact Ace ImageWear Today!
When it comes to uniform service in Houston, TX, Ace ImageWear has you covered. With a wide range of customizable uniforms and apparel designed for various industries, we're committed to helping your business make a lasting impression while prioritizing employee safety and comfort. Contact us today for a personalized consultation on uniform service in Houston, and let's take your business image to the next level!
Recent Reviews from Our Customers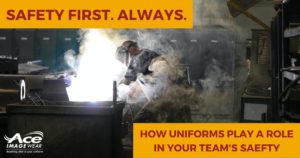 Uniforms Are The First Line Of Defense When It Comes To Your Team's Protection With decades in the uniform industry, the Ace ImageWear knows that employee safety takes precedence in many situations and is an integral part of your uniform program. Whether your employees work on dangerous shop floors with poor lighting and electrical arc … Read more
Why wait to change uniform rental providers? It's time to get out of that national outfit and into a local uniform partnership.