Ace ImageWear News & Announcements
Read What's New from Ace
The latest articles, information and resources about our company, staff, uniform rental programs and more. If we can provide any additional information, simply contact us today.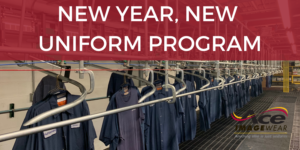 New Year, New Uniform Program 2020 put most of us through the washer…er, wringer. So as we inch closer and closer to 2021, there are lots of things on our … Read more
Leave competitors guessing how you keep employees well-dressed and happy. The secret? You've got an Ace Up Your Sleeve. Contact us today and learn more about a uniform rental program you can count on.